Uma homenagem brilhante

à

Bossa Nova
A shining tribute to Bossa Nova
 No dia 25 de janeiro, comemoramos no Brasil o aniversário de Tom Jobim e o Dia da Bossa Nova; e também em 2016, sediaremos as Olimpíadas no Rio e continuaremos com as comemorações dos 450 anos da cidade; portanto, não há melhor momento para apresentar este projeto de uma luminária inspirada neste movimento musical tão influente. 
     Essa é uma homenagem a um dos maiores artistas brasileiros da história e ao movimento que ele ajudou a disseminar pelo mundo inteiro, demonstrando todo o potencial da cultura brasileira.
     A luminária ficou entre os finalistas do "20º Prêmio Salão Design" (salaodesign.com.br), a maior premiação de Design de produtos da América Latina, na modalidade Estudante da categoria Iluminação.
     On January 25th, we celebrated the birthday of Tom Jobim and Bossa Nova Day in Brazil; and also in 2016, we'll host the Olympics in Rio and the ongoing celebrations of Rio's 450th anniversary; so there's no better time to reveal this lamp inspired by this iconic musical movement.
     This is a tribute to one of the greatest Brazilian artists in history and to the movement he helped spread all over the world, showing the full potential of Brazilian culture.
     The lamp was among the finalists of the 20th "Prêmio Salão Design" (salaodesign.com.br), the biggest Design award in Latin America, in the Student/Lighting category.
     O conceito foi inspirado em 3 notáveis características da Bossa Nova (apontadas pela profª de canto e educadora musical Diana Goulart). A forma foi gerada a partir dessas 3 definições, tendo como origem as representações digitais das ondas sonoras de um trecho de música específico. As transposições, do conceito à forma, ocorreram assim:
     The concept was inspired by 3 notable Bossa Nova features (pointed by the music expert Diana Goulart). The shape was generated from these 3 settings, upon the original output from the digital representations of sound waves from a specific piece of music. Bridging these, from concept to form, was like this
     Para trazer as canções da Bossa Nova ao palpável, as representações digitais das ondas sonoras de cada trecho foram obtidas por computador e o resultado foi então suavizado para expressar a elegância do ritmo, e verticalizado para conferir o aspecto monolítico à luminária.
     To make Bossa Nova songs tangible, the digital representations of the sound waves from each snippet were obtained by computer and the result was then softened to express the elegance of the rhythm and verticalized to grant the lamp its monolithic aspect.
     "Muito natural" vem da 1ª música a representar a Bossa Nova: "Desafinado", de Tom Jobim e Newton Mendonça, um manifesto eternizado pela voz de João Gilberto, que diz: "(que) isto é Bossa Nova, isto é muito natural" em alusão à maneira como se canta, quase como uma fala cotidiana. Portanto, nada mais natural que a luminária, que foi pensada como cada música do movimento, tenha seu nome retirado da música que o primeiro representou.
     "Muito natural" ("Very natural") comes from the 1st song to represent Bossa Nova: "Desafinado" ("Out of tune/Off key") by Tom Jobim and Newton Mendonça, a manifesto eternalized by the voice of João Gilberto, who goes "…(that) this is Bossa Nova, this is very natural" in allusion to the way it is sung, almost like an everyday conversation. So it is only natural that the lamp, which was conceived like every other song of the musical movement, has its name taken from the song that first represented it.
     Para a construção do protótipo em Corian, foi escolhido o trecho mais emblemático da Bossa Nova: "Olha que coisa mais linda, mais cheia de graça" de "Garota de Ipanema". Os detentores dos direitos autorais, Jobim Music e Universal Music (de Tom Jobim e Vinícius de Moraes, respectivamente) já conheceram e adoraram o projeto, agora estou procurando outras pessoas e empresas interessadas em aprimorar ainda mais o projeto e para fecharmos um acordo de uso das músicas, tanto desses dois artistas quanto de outros(as), para lançar efetivamente a luminária no mercado.
     To build the prototype in Corian, I chose the most remarkable verse of Bossa Nova: "Olha que coisa mais linda, mais cheia de graça" ("Look, what a beautiful thing, so full of grace" literally or "Tall and tan and young and lovely" in its original translation) from "Garota de Ipanema/The Girl from Ipanema". The copyright holders, Jobim Music and Universal Music (for both Tom Jobim and Vinicius de Moraes, respectively) were already shown the project and they loved it. I'm now looking for individuals and companies interested in helping me develop the project even more and work out a licensing agreement, that includes these two artists as well as others, to launch the lamp on the market.
     Ela nasceu para ser um marco na representação do Brasil e da "Brasilidade" de nosso povo e cultura, e, sendo divulgada agora e lançada ainda nas comemorações dos 450 anos do Rio De Janeiro, tem tudo para se tornar um ícone nacional, pois ela eterniza a memória auditiva num objeto feito aos moldes da própria Bossa Nova, pondo na casa de cada um(a), um monumento à forma brasileira de se viver a vida.
     It was born to be a milestone in both the representation of Brazil and the "Brazilianness" of its culture and people. Being revealed now and released still during the celebrations of Rio's 450th anniversary, it has everything to become a national icon, because it perpetuates the auditory memory in an object made in the molds of Bossa Nova itself, putting a monument to the Brazilian way of life in each home.
​​​​​​​
     A partir de agora, além de ouvir, as pessoas poderão tocar nas alterações provocadas no ar pelo som das palavras e das melodias. Alterações que só tinham sido percebidas até então pelas suas emoções.
     From now on, beyond listening, people will be able to touch the changes in the air caused by the sound of Bossa Nova verses and melodies. Changes that had only been perceived until now by their emotions.
​​​​​​​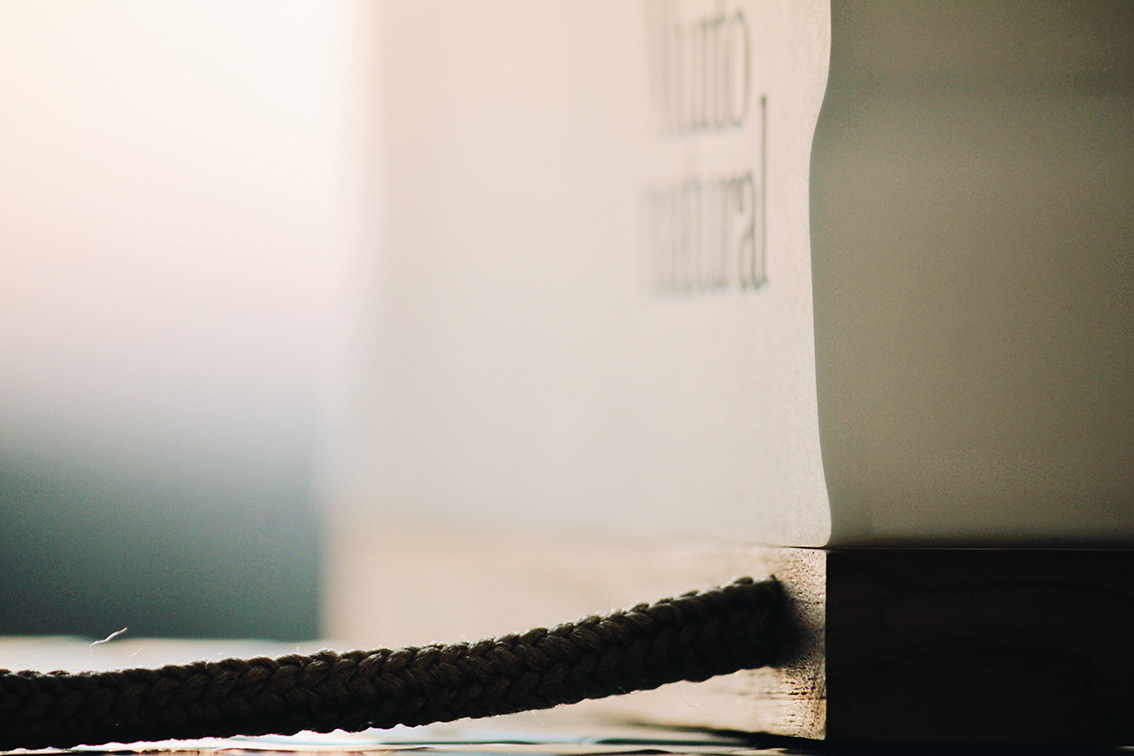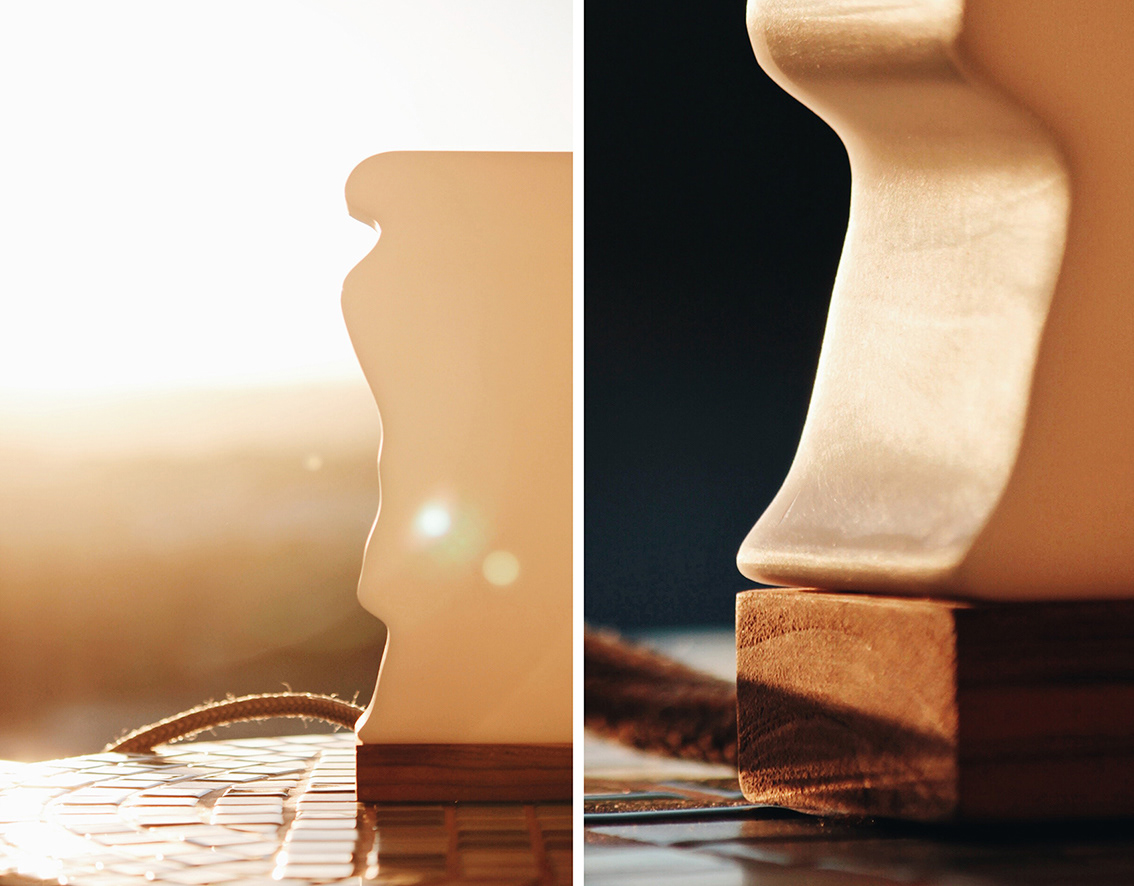 Cada trecho de música marcante na vida de alguém será eternizado como um objeto que poderá ser contemplado e relembrado sempre. Tanto pelos brasileiros, que viveram, vivem e viverão a Bossa Nova de perto, quanto pelos estrangeiros que foram, são e ainda serão tocados pela Bossa Nova. Consagrando a luminária como uma homenagem à altura do movimento musical, tendo potencial para ser tão difundida e exportada quanto as suas músicas.
     Each remarkable piece of music in one's life will be immortalized as an object that can be contemplated and remembered forever. Both by Brazilians, who have lived, live and will live Bossa Nova closely, as by foreigners who were, are and will still be touched by Bossa Nova. Establishing the lamp as a worthy homage to the musical movement, with the potential to be as widespread and exported as its music.
​​​​​​​