Ao pesquisar e refletir sobre a importância dos metais para nós como espécie, percebi que foi somente através deles – como o cobre, bronze ou o aço – que a humanidade se viu diante de si pela primeira vez.
    Upon researching and reflecting on the importance of metal to us as a species, I realized that it was only through metal – such as copper, bronze or steel – that humankind saw itself in detail for the first time.
    Desde então, o Medo usa nossa Vaidade e nos compele a refletir sobre nossos reflexos. Mantendo-nos eternamente preocupados com nossa aparência e censurando nosso comportamento.
    Since then, Fear uses our Vanity and compels us to reflect on our reflections. Keeping us forever worried about our appearance and censoring our own behavior.
    É difícil escapar do olhar hipnotizante com o qual o Medo nos provoca. Cada distorção de nossa imagem nos atrai ainda mais, e nos leva a arriscar sermos petrificados por nossa própria autoestima.
    It's hard to escape the mesmerizing gaze with which Fear tempts us. Each distortion of our own image attracts us even more, and leads us to risk ourselves being petrified by our own self-esteem.
    A escultura é inteiramente feita de chapas de aço inox unidas com adesivo estrutural – sem soldas. Todas as chapas foram cortadas com jato d'água e a espelhada foi entortada à mão e tamb
ém
recebeu a gravação com o título, data e assinatura. Tem 2m de altura, 1m de largura e 1,6m de profundidade, com peso de 380kg.
    The sculpture's entirely made of stainless steel sheets bonded with structural adhesive - nothing was soldered. All sheets were water jet cut and the mirrored one was hand-bent an also etched with the title, date and signature. It's 2m tall (~6'7"), 1m wide (
~40") 
and 1.6m deep (
~63")
, weighing about 380 kg (~838 lbs).
    Atualmente se encontra no museu particular do colecionador que a encomendou.
    It currently sits at the private gallery of the collector who commissioned it.
    *The reason it is spelled with an "o" is because, in Portuguese, Medousa (as opposed to Medusa) can also be read as FearUses.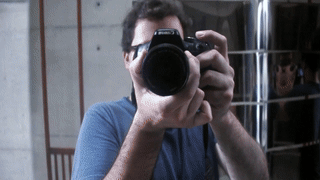 Below you'll see some time-lapses of the process:

Checking if the bonding template is correct;
Applying the structural adhesive to the base;
Placing the upper part of the sculpture on the base;
And finally, peeling off the protection vinyl.